IMPORTANT Keeping our customers and staff as safe as possible is of utmost importance to us.
We would prefer it if everyone wears a face covering whilst moving around.
We very much look forward to seeing you at an event here soon.
All events can be booked at the Town Hall or through Ticket Source 
www.ticketsource.co.uk/bcth
21st May
Clun Valley Jazz – Shirley Smart Quartet 
 For Reservations – email: clunvalleyjazz@gmail.com  –  text:  07768 504322
Doors open 7.30pm for an 8pm start
18th June 
Nick Hart
Nick Hart Sings Tent English Folk Songs Press Release
Nick Hart is an award-winning singer and multi-instrumentalist whose work with English folk song is rapidly gaining him a reputation as one of the most acclaimed performers of his generation. His considered approach to accompaniment is informed by a deep respect for the nuances of traditional song and his captivating live performances are a testament to the importance he places on storytelling.
£12 per person
Doors open 7.30pm for an 8pm start
2nd July 
Brackenbury Bianco Duo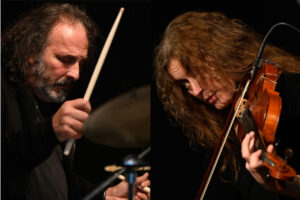 'Visio improvisus' is a new project by BrackenburyBianco-  sacred music of St.Hildegard von Bingen brought to a different plateau by a masterful improvisational duo.'
'Talk about your dynamic duos. Drummer/bassist Tony Bianco and violinist/violist Faith Brackenbury have pooled their talents to come up with one of the best such meetings in recent memory.' ~DowntownMusicGallery, New York
Tony Bianco is an American jazz drummer and composer from New York City who moved to Europe in the early nineties. He has been described as a "true master of the drums ". He has played and recorded with many prominent jazz musicians including Elton Dean, Alexander von Schlippenbach, Dave Liebman, Paul Dunmall, and Evan Parker. Bianco is known for his "mercurial", "octopusian" drumming style, which combines the sounds of free jazz and straight jazz and reflects Bianco's "musical creed – to be "loose and tense, free and strict". (wiki)
Faith Brackenbury is an improvising violinist/violist,vocalist and composer. After post graduate studies in jazz at Birmingham Conservatoire in 2014 she went on to play with alto saxophonist Martin Speake in 'Mafarowi',and the two released a duo album 'Zephyr' in 2016. Brackenbury's 'KnifeAngel' sextet album was released in 2018.
Faith and Tony met in 2020 and immediately forged a strong creative relationship, releasing their first album 'Rising Up', (Discus) in 2021. Their exploration of Hildegard von Bingen's fluent sacred music together with their own improvisational strengths, creates a truly spiritual combination .
£12 per person
Doors open 7.30pm for an 8pm start
16th July 
Into the Shadows 
£15 per person
Doors open 7.30pm for an 8pm start
6th August 
Will Barnes Quartet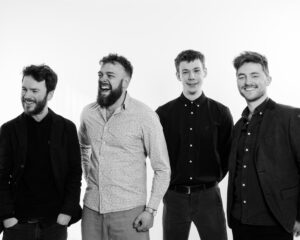 In this new quartet, Will is joined by gifted musicians Clovis Phillips, Jack Gonsalez and James Batten – a tight collective of highly-experienced jazz instrumentalists. Their carefully selected sets typically consist of timeless laid-back swing tunes, punctuated by sharply-focused fiery passages that delight. Their sound is fresh, consistently breathing new life into some classic works, alongside Will's memorable compositions that leave audiences wanting more.
£15 per person
Doors open 6.30pm for an 7pm start
27th August
Clun Valley Jazz – Julian Arguelles Trio
For Reservations – email: clunvalleyjazz@gmail.com  –  text:  07768 504322
Doors open 7.30pm for an 8pm start
9th September
B.L.A.S.T.  Beautiful Lies and Startling Truths
Monthly Storytelling – More details to follow
£8 per person or £28 group ticket (up to 4)
Doors open 7.30pm for an 8pm start
Tea, Coffee, Three Tuns Beer and Homemade Cake (inc. gluten-free/vegan)
14th October
B.L.A.S.T.  Beautiful Lies and Startling Truths
Monthly Storytelling – More details to follow
£8 per person or £28 group ticket (up to 4)
Doors open 7.30pm for an 8pm start
Tea, Coffee, Three Tuns Beer and Homemade Cake (inc. gluten-free/vegan)
15th October
Clun Valley Jazz – Daniel Karlsson Trio 
For Reservations – email: clunvalleyjazz@gmail.com  –  text:  07768 504322
Doors open 7.30pm for an 8pm start
11th November
Clun Valley Jazz – Tord Gustaven 

(TBC)

 
For Reservations – email: clunvalleyjazz@gmail.com  –  text:  07768 504322
Doors open 7.30pm for an 8pm start
18th November
B.L.A.S.T.  Beautiful Lies and Startling Truths
Monthly Storytelling – More details to follow
£8 per person or £28 group ticket (up to 4)
Doors open 7.30pm for an 8pm start
Tea, Coffee, Three Tuns Beer and Homemade Cake (inc. gluten-free/vegan)
19th November 
Claude Bourbon
"A breathtaking acoustic fusion of blues, jazz, classical and Spanish guitar from a stunning guitar virtuoso…"  Atlantens News, USA
www.claudebourbon.org
£14 per person
Doors open 7.30pm for an 8pm start
26th November
Clun Valley Jazz – Furgus McCreadie Trio 
For Reservations – email: clunvalleyjazz@gmail.com  –  text:  07768504322
Doors open 7.30pm for an 8pm start
9th December
B.L.A.S.T.  Beautiful Lies and Startling Truths
Monthly Storytelling – More details to follow
£8 per person or £28 group ticket (up to 4)
Doors open 7.30pm for an 8pm start
Tea, Coffee, Three Tuns Beer and Homemade Cake (inc. gluten-free/vegan)
13th January
B.L.A.S.T.  Beautiful Lies and Startling Truths
Monthly Storytelling – More details to follow
£8 per person or £28 group ticket (up to 4)
Doors open 7.30pm for an 8pm start
Tea, Coffee, Three Tuns Beer and Homemade Cake (inc. gluten-free/vegan)
10th February
B.L.A.S.T.  Beautiful Lies and Startling Truths
Monthly Storytelling – More details to follow
£8 per person or £28 group ticket (up to 4)
Doors open 7.30pm for an 8pm start
Tea, Coffee, Three Tuns Beer and Homemade Cake (inc. gluten-free/vegan)
10th March
B.L.A.S.T.  Beautiful Lies and Startling Truths
Monthly Storytelling – More details to follow
£8 per person or £28 group ticket (up to 4)
Doors open 7.30pm for an 8pm start
Tea, Coffee, Three Tuns Beer and Homemade Cake (inc. gluten-free/vegan)